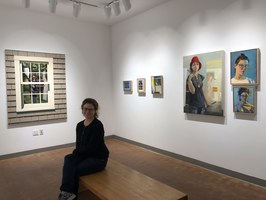 Amanda is a Boston-based perceptual painter.
She had a solo show, "Vantage Points" at the Oresman Gallery at Smith College in October 2018 and was a visiting artist at the college in November. She was included in the 2019 Juried Winter Exhibition at Blue Mountain Gallery in NY, NY, the 2019 Juried Show at Bowery Gallery in NY, NY, and 2020 Juried Exhibition at Prince Street Gallery NY, NY. She has been included in several juried exhibitions at Concord Art in Concord, MA (2019-21). In May 2019, she was invited to show at MUSA Collective in Boston, MA, in the three-person exhibition "Outside In".
Amanda has been awarded painting residencies at PLAYA (2017), the Hambidge Center for the Creative Arts and Sciences (2018), Monson Arts (2019), Virginia Center for the Creative Arts (2020), and Brush Creek Foundation for the Arts (2020). In summer 2021 she will be a Four Pillars artist-in-residence and guest critic at Mount Gretna School of Art.
Amanda lived in Sydney, Australia from 2012-17. There she taught at ArtEst Art School and was finalist in major national prizes: the inaugural $50,000 Benalla Nude Art Prize at the Benalla Art Gallery, VIC (2014) and the $40,000 Percival Portrait Prize at the Perc Tucker Regional Gallery, QLD (2016).
She earned a BA in Studio Art from Smith College, a Post Baccalaureate Certificate in painting from Brandeis University and an MFA (2D) from Massachusetts College of Art and Design.

A detailed CV is available below.